Welcome to Evergreen, Colorado!
Welcome to Evergreen, Colorado!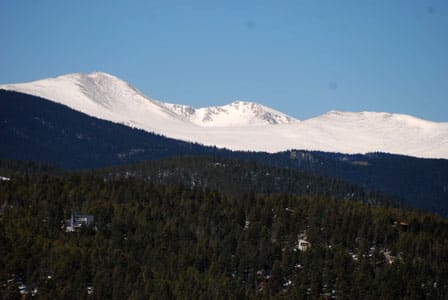 Coming to our Crucible® Intensive Therapy Program is like going on a retreat. It gets you out of your normal routines and lets you focus on why you're here. The surrounding Evergreen community is the perfect place for thoughtful reflection. Couples have time outside of sessions to be together and to be alone. Singles use the time as a personal refuge. Families devote their undivided attention to issues usually avoided by brief contact.
Evergreen, Colorado is cradled in the Rocky Mountains at about 7,000 feet elevation and 30 miles west of Denver along the historic Lariat Loop. About 30,000 people call Evergreen home. Evergreen encompasses about 130 square miles of pristine pine and aspen-laden hills where elk and deer roam freely. It sprawls from the flanks of 14,260-foot Mount Evans on the west, to the plains on the east. You'll find friendly people, privacy, beautiful mountain vistas, thick forests, wildlife, and an abundance of recreational opportunities in this charming mountain community.
Historic Downtown Evergreen
Before the 1859 gold rush, Evergreen was part of a vast wilderness that belonged to the Ute and Arapahoe Indians. The first White settlers were French fur traders and lumberjacks. The prospect of harvesting gold, silver, copper, elk and timber brought settlers through Bear Creek Valley in the 1860s. While settlers struggled to make ends meet, Colorado's wealthiest families visited to camp, hike, fish, picnic and paddle canoes, and the second Territorial Governor, John Evans, and Governor Sam Elbert .established summer colonies here. In 1880, Evergreen was a small settlement with 100 full-time residents. The Bear Creek stage coach service from Morrison to Evergreen was established for summer tourists in 1890.The village was nearly destroyed in 1896 by a flood that took out seven of nine bridges crossing Bear Creek from Evergreen to Morrison. The first settlement has been preserved as the "Evergreen Historic District" listed on the National Register of Historic Places.
In the 1890s, a wealthy Civil War widow, Mary Neosho Williams, and her physician daughter, Josepha "Dr. Jo," acquired land with a log building, and expanded it for summer visits of her extended family. Dr. Jo married an Episcopal priest, Canon Charles Douglas in 1896, and the homestead was expanded with more buildings and house tents (now preserved by JeffCo Open Space as The Hiwan Homestead).
In 1897, the homestead began to host an Episcopal Summer Conference. Canon Douglas achieved wide acclaim for his religious musical transcriptions and compositions, and beginning in 1898, Episcopalians came to Evergreen from across the country to enjoy summer retreats and liturgical music seminars. Julia Brewster Douglas, sister of Canon Douglas, retired in Evergreen and established Evergreen's first public library in 1917 in a Main Street store front. By 1935, Miss Julia had gathered 12,000 volumes in her library. The Evergreen Church Music Conference thrived every summer until 1996 when it moved to Winter Park, Colorado.
The summer colonies of Denver's elite encouraged the creation of a Mountain Park System in 1912. Roads built by the city of Denver to the park system from 1914-1920 attracted so many visitors that the pristine beauty of the area seemed threatened. The non-profit Mountain Parks Protective Association was formed in 1925 to manage Evergreen's population, which fluctuated from 500 year-round inhabitants to 5,000 during the summer. Fire swept through seven "downtown" business structures and four homes on November 10, 1926. Soon Denver's manager of improvements proposed a dam and lake for recreation, including fishing, boating, ice skating and golf. After Evergreen Dam and Lake was constructed in 1928, the first Evergreen Ice Carnival was organized in 1939. A popular night spot with a view of Evergreen Lake was constructed, attracting locals and visitors to dance to big bands which included Tommy Dorsey and Lawrence Welk. The most lucrative local point-of-sale for bootleggers during Prohibition (1919-33) was behind Prince McCracken's Drugstore and the Round Up Dance Hall on Main Street. By 1944, Evergreen's year-round population swelled to 500.with 177 party-line telephones.
Today the unincorporated Evergreen Township demonstrates how citizens can manage their community without city government. Many municipal facilities and services are run by an active group of highly-trained volunteers, including our local fire department.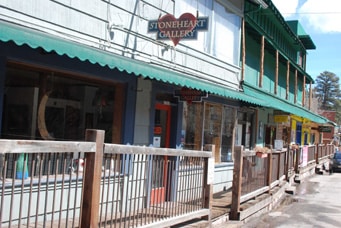 Quaint downtown Evergreen contains a diverse array of shops offering antiques, galleries, clothing, souvenirs, specialty shops, and a sophisticated restaurant/gallery. The Little Bear Saloon, located in heart of historic downtown, fits everyone's image of an Old West bar. Formerly a church and a drugstore, the Little Bear enjoys a reputation of being one of Colorado's best mountain bars, where you can hear top touring bands in an intimate setting.
Evergreen has an active arts community. The downtown Sculpture Walk project brings sculpture to the public. It exhibits a number of pieces at the same time, and changes from year to year.