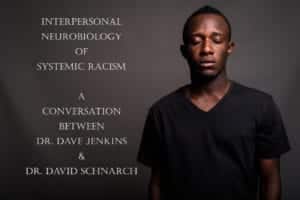 Systemic racism robs people of their physical lives, subjects them to police brutality, deprives them of equal opportunity and wears on their soul. People of color are also subjected to a constant daily barrage of traumatic mind-mapping experiences that are virtually invisible and unappreciated by white people living in white-dominant societies. The brain impacts of systemic racism further reinforce cultural and racial stereotypes promoted by systemic racism itself.
This in-depth conversation between two colleagues, Dr. Dave Jenkins and Dr. David Schnarch, looks at common experiences in black lives through the lens of cutting-edge brain science known as interpersonal neurobiology. Regardless of your skin color or ethnic background, this heartfelt frank exchange between two knowledgeable mental health experts will expand your understanding and appreciation of the mental health risks of systemic racism. Their fascinating discussion of mind mapping, mind masking, and the brain impacts of racially-based traumatic mind mapping is paired with practical solutions for repairing the damage.
If you have been traumatized by the George Floyd murder and other police aggression against black men, or you want to better understand systemic racism in institutions and everyday life, you'll find this recording extremely helpful.
Mental health professionals will gain a window into the black experience and discover tools for working with people who have been traumatized.
Dr. Dave Jenkins holds a Doctorate of Ministry and Masters of Divinity in Marriage and Family Therapy. He is a retired Army enlisted mental health medic, and currently works with the FBI as an employee assistance counselor. Dr. Dave is a licensed Marriage and Family Therapist in Virginia.
Dr. David Schnarch is a licensed clinical psychologist, board certified in couple and family psychology, and marriage and family therapist. He is the founder of Crucible® Therapy and Crucible® Neurobiological Therapy. He is the author of Brain Talk, Passionate Marriage, Intimacy & Desire, and Constructing the Sexual Crucible.