CNT #4- Six Day Clinical Practicum
September 29- October 4
ONLINE
Presented by
Dr. David Schnarch
For more information on the Crucible Neurobiological Therapy Workshop Series, click here.
Have you attended the previous 3 CNT Workshops?
Are you full to the brim with Crucible Approach regression work and LMD's?
Are you still trying to figure out how you can apply your knowledge into your practice with clients?
In response to numerous requests, this years Crucible Neurobiological Therapy Workshop (#4) will be a practicum devoted to in-depth application of the brain-based methods taught in prior CNT workshops and will focus on the deconstruction of problem cases.
The Practicum is an organic learning experience. Participants are invited to submit write-ups of their difficult cases. A selection of submitted cases drives the conceptual and clinical content discussed and the clinical problems addressed. This Practicums will focus on practical skills, application of right-brain methods, removing blind spots and identifying places where you "get stuck." As a participant, you will develop your ability to make clinical interventions and steer them to success.
Additional learning objectives include:
       Refine your pacing and leading.
       Deal with cases that scare you witless.
       Explore opportunities to "take the therapist's chair" in clinical simulations and receive immediate feedback.
Daily activities involve analyzing cases in depth, recognizing sources of difficulties, identifying necessary changes, developing intervention strategies, and making interventions in therapy simulations.
The Practicum group process provides a supportive environment that encourages showing up as a person and therapist, professional development and personal growth.
Practicums will be conducted by Dr. David Schnarch. (Practicums in Germany will be translated by Tara Christopeit.) Registration is limited to permit more personal attention and consider the "person of the therapist." Prior attendance at one or more Crucible Neurobiological Therapy Workshops (#1, #2 or #3) is required to register for this practicum.
The Practicum will be a full-immersion experience that facilitates personal reflection, self-application, and professional rejuvenation.
In addition, we strongly recommend reading Brain Talk before this year's program.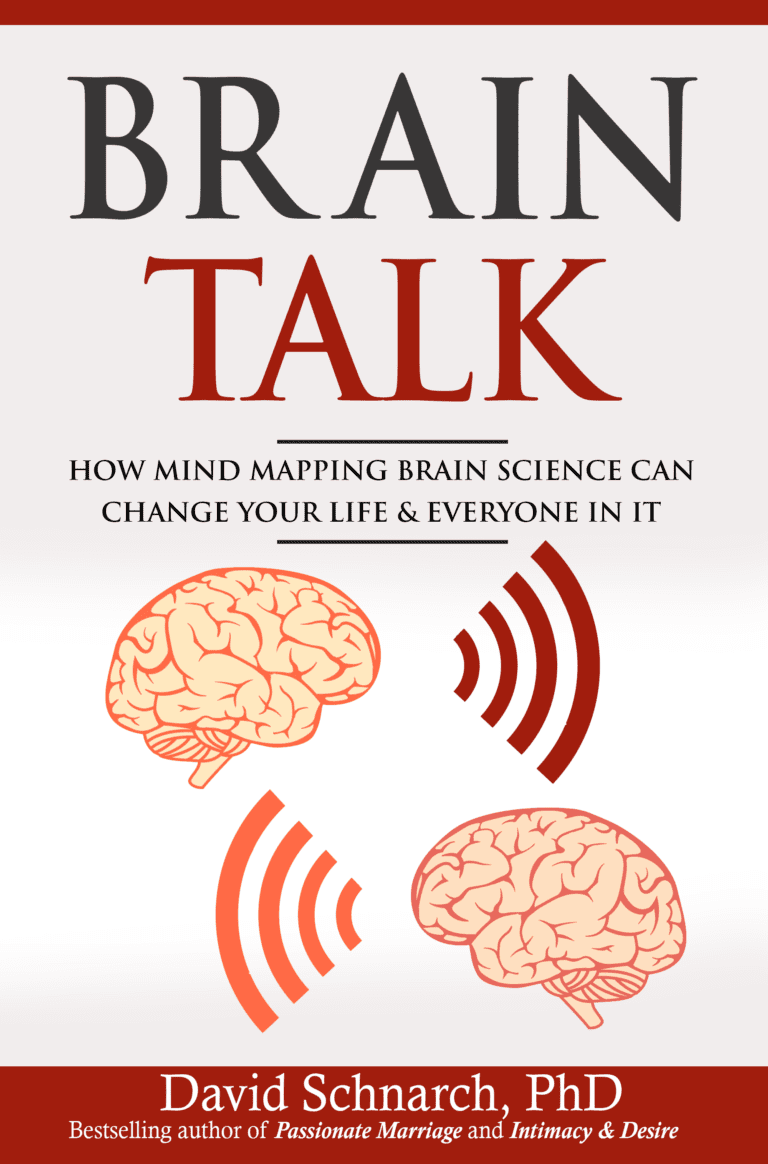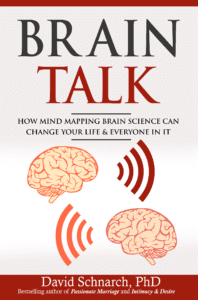 To learn more about Brain Talk, click here.
Buy Brain Talk now at Amazon.com
eBook,
 Print,
 or Professional eBook 
ABOUT THE PRESENTER: Dr. David Schnarch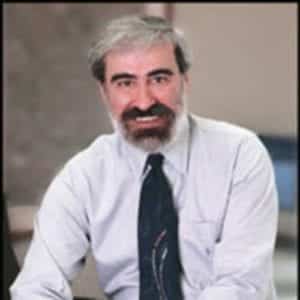 Thirty years ago David Schnarch developed Crucible® Therapy, the first differentiation-based core integration of sexual and marital therapy. He is a licensed clinical psychologist and author of internationally best-selling books (Passionate Marriage, Intimacy & Desire, Resurrecting Sex, and Constructing the Sexual Crucible.)
David has a proven track record of clinical innovation. He has received 3 major awards for professional contributions to the practice of psychology, sex therapy, and marriage and family therapy. He is regarded as one of America's most influential therapists in these fields. David is an AASECT Certified Sex Therapist (Diplomat status), a Clinical Member of the American Association for Marriage and Family Therapy (AAMFT), and Board Certified in Couple and Family Psychology.
Twelve years ago David began integrating modern brain science into Crucible Therapy. Crucible® Neurobiological Therapy, the first mind mapping-based interpersonal neurobiological therapy is the result. Refined through a decade of exhaustive literature review, clinical innovation and case study research, David's latest work was released in January, 2018 in his newest book, Brain Talk: How Mind Mapping Brain Science Can Chance Your Life and Everyone in It (Sterling Publishers).
REGISTRATION FOR THE 6-DAY PRACTICUM:
Early registration (received by September 8th, 2020) – $720.00.
Standard registration (received after September 8th) – $880.00
Attendance at all six days will be required.
Cancellation Policy:
By Written Request Only.
Up to 21 days before workshop start date= 75% refund
Up to 14 days before=  50% refund
13 days until day before workshop= 25% refund
Cancellation for medical reasons (with documentation) will receive 100% refund
In lieu of refund, you can attend another Crucible® Workshop of equal or lessor cost within the next
year at no additional charge.
—————————————————————–
Continuing Education Credits:
Crucible Neurobiological Therapy Six Day Intensive Workshop #4:
This program is sponsored by the Marriage and Family Health Center (MFHC, also doing business as the Crucible Institute).
Marriage & Family Health Center (MFHC) has been approved by NBCC as an Approved Continuing Education Provider, ACEP No. 5870. Programs that do not qualify for NBCC credit are clearly identified. MFHC is solely responsible for all aspects of the programs. This workshop earns 36.5 NBCC Clock Hours.
MFHC is also an approved provider of the Texas State Board of Social Worker Examiners (TEXAS SW), and this workshop earns: Six Day Workshop 36.5 CE Credits.
CE Credits $15.00 per certificate requested.  If you need CE credits, you must take responsibility for checking to see if we have approval for your agency or licensing board.  We have participants coming from all over the United States and outside the United States. Thus, we cannot guarantee CE credits for every State or Agency.  Many professional organizations will accept the CE Credits from parallel organizations, but it is your responsibility to confirm status with your professional organization.  The variations of the exact amount of CE hours depend on each Agency's policy regarding breaks.
For tips on preparing yourself for this online workshop, click here.
For more information on the Crucible Neurobiological Therapy Workshop Series, click here.